TALLY PRIME SOFTWARE
Buy TallyPrime Silver (Single User), TallyPrime Gold (Multi User) or Get Rental Tally License.TallyPrime Server also available for large organizations. Ask for trial/demo of Tally Prime for 7 days.
Buy Tally Prime
TALLY SUPPORT & SERVICES/AMC
Renew your Tally to get connected services of e-Invoice, e-Way Bill, release updates, TRiB and many more features . Opt for AMC and get unlimited support and expert advices for your Tally.
CUSTOMIZATION & INTEGRATION
Customize your Tally according to your business needs or get Readymade solutions and expand its capabilities.
Integrate Tally with website, import from excel or any other data source through API.
Customize now
TALLY ON CLOUD
Switch to Tally on Cloud hosted on our safe and secure data centers or choose from AWS. Host your own server and access your Tally data through our remote applications.
Tally on Cloud
TALLY MOBILE APPLICATION
Stay connected to your business, always. Track your business anytime, anywhere. Get your Tally on Mobile application now.
Get Tally on mobile
Business Intelligence Tool
Get One-Click Analytics to grow your Business. Transform Boring Data into Beautiful & Interactive Dashboards.
About BI tool
ABOUT US
Deploying business software solutions in
Tally
with

Power of simplicity &

customization possibilities
Frontier Softech is a subsidiary of a well known bicycle manufacturing company "Frontier Industrial Corporation" based in Ludhiana. Since our inception in 2001, we enjoy a patronage of more than 5000 clients of various business categories. Our core expertise in providing complete business software solutions to our valued clients has assisted them to achieve their business growth & targets. With professionally focused vision, our team plays a vital role between the business and technology. Our remarkable potential to perceive the significance of client's requirements makes us unique among the competitors. We are an Authorised 5 Star Certified Partner (Sales & Solution) of Tally Solutions Pvt Ltd.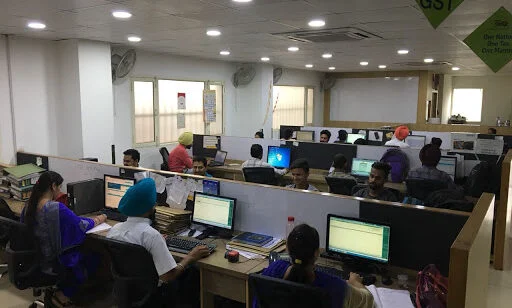 What we offer
We work closely with you to understand your goals and then develop your entire business plan. Own success at every turn. Uncover and deliver on opportunities that build lasting value.
Tally Prime provides you with exceptional capabilities that will simplify the way you manage all critical aspects of your business, including accounting, sales and purchase, inventory, manufacturing, taxation, payroll, MIS reporting, and much more.
Tally Support & Training
Our team of Tally consultants, support executives & developers help our customers make the most of TallyPrime by utilizing all the default functionalities & additionally offer customized solutions. This goes to ensure businesses can go way beyond basic, automate processes and stay productive.
Customization, Integration & Tally Addons
We customize the software at your demands for your specific line of business and also we have ready-to-use numerous addons and modules for the most demandable features to just add to your Tally and make it as you need it. Integrate any application with Tally to save time and avoid duplication of work.
Spine HRMS & Payroll
We have partnered with the best HRMS & Payroll solution that fits every organisation ranging from Small to Enterprise. Spine Payroll is very simple, flexible and user-friendly Payroll Management software that takes care of all your requirements relating to employee's information & salary calculation along with compliance.
Web development & Mobile app development
We offer the web development services and develop websites or related services usging HTML, CSS, PHP, WordPress and much more. Our intuitive mobile application designs combined with compelling user experience is what makes our apps stand ahead.
ERPNext Consultancy & Implementation
ERPNext is easy to use – great to start your journey to move beyond accounting software and unite all your departments and team on one software for all areas (Including Inventory, Manufacturing, Sales, Purchase, Finance, CRM, HR etc)
WHY CHOOSE US?
Our Values
Our customers are our secret of success. Their satisfaction, their smooth running business and thus the happy customers and the dedicated team who is continuously working towards the achievement of the above values results in the success…
HONESTY & INTEGRATION
Being honest is being open, trustworthy and truthful. We practice them.
QUALITY
We belive that quality is always the result of sincere effort, intelligent direction and skillful execution.
BETTER EVERYDAY
Getting better everyday this is how we learn to serve you.
CUSTOMER CENTRIC
We focus on products and services for best customers.
ETHICS
We manage fairly our pricing, promotion & sale of products. Being good is good customers.
TRUST
Trust is gained, gained by consistency, product quality, on time delivery and after sales service.
VIBRANT YEARSOF EXPERINECE
PROJECTS DONE
COMPETITIVE& EXPERT TEAM
HAPPY CLIENTS
Our Readymade Projects / Customizations
Choose from the list of ready to implement modules built in TALLY by our developers. These modules are thoroughly studied by our experts and serves the right fit for each industry type according to the module.
We keep you updated about the latest developments in Tally.Click to watch!
Sanya Easy Salon
2023-09-26
I really appreciate your work (Jasvir and Raj), thanks for such a timely service
Good support and service for tally prime from Ajay Mishra
Very good deal owner and staff.They solve your problem very fast and make the tally so easy.
I am received good service and support for tally prime accounting software from Ajay Mishra
Accounts Department
2023-09-14
BEST SUPPORT SERVICE FOR ACCOUNTING SOFTWARE FOR TALLY PRIME FROM AJAY MISHRA
I m totally impressed with this product and services given by Mrs. Jasvir Kaur. I am from bihar and It was a great support and services provided by her.
i belong from netram power , gujrat . I purchased tally from frontier softech . Dealing by jasbir is very good they provide good service. Overall i had great experince with them
Arnav Bebo Sharma
2023-09-13
Ajay Mishra ji, A best helping hand to be around.
It was a great experience and Best Customer Service from Mrs Jasbir. I am from Maharashtra and Great Support and service from Mrs.JasbirHamazz Healthcare Pvt. Ltd.
Client Testimonials
Don't take our word for it – here's what our clients say:
We at dasmesh pump store are very satisfied by product & services provided by Frontier Softech. Their expert team & staff never let us down during emergency & training. We highly recommend Frontier Softech for their prompt services.
Ramanjot Singh
We are very much satisfied with services of Frontier Softech. All our queries are taken care at priority and solutions to our problems are solved at the earliest.
Manish Jain
Tally was purchased by our company in 2006 from Frontier Softech, the services of Frontier Softech are unmatched since installation of Tally in our company. Tally is very easy and user friendly to use compared to other accounting software and data traceability is also good.
Varun Mittal
Frontier Softech is the best developer and problem solving place. Whatever design and path which you need to develop to smooth and easy run your business Frontier is the only gate you can knock. Frontier is the Master in Customization and designing your Path which is not possible with other Tally developers. And we are very happy and satisfy with our Tally Partner Frontier for their quick services and advance Customization works. So as per my suggestion and advice there is no match with Frontier in terms of Customization and Problem solving.
Nitinkumar Rana
Contact us
Fill in your details and we will get back to you!
Address:
Frontier Tower, 180 & 180/1, G.T. Road, Miller Ganj, Ludhiana 141003, Punjab (IN)