Do More with Tally Prime
Tally is designed to meet your specific business requirements through a host of
Customizations, Integrations & Vertical Solutions, built by us.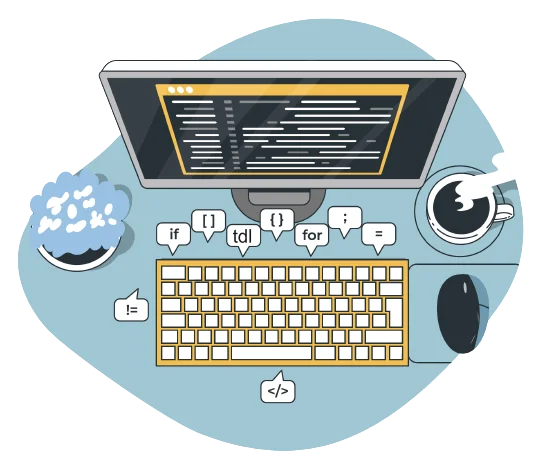 Call us at 91-98146 31488
Call now
Enquire on WhatsApp
Tally Customization through TDL
Tally is not only an application, but also a complete development environment which enables us to build extensions, customizations and integrations using Tally Definition Language (TDL). Using TDL we build a faster application without compromising on Speed, Reliability or data Integrity, which is core to Tally.

Frontier Softech is a 5 Star Certified Partner (Sales & Solutions) of Tally Solutions Pvt Ltd, with customers spread across various parts of India, UAE, Kenya & Germany.

Looking for feature or functionality to meet your unique business requirement? Build it for your business in a way you want. Tally Definition Language (TDL) provides complete flexibility and power to customise the solutions for complex business requirements with 'Power of simplicity'.
RETAIN THE POWER OF TALLY
Extensions do not impact any of the core features of Tally that you love. You continue to enjoy the speed, simplicity and flexibility of your Tally
RAPID

DEVELOPMENT
Extend, Customize or Integrate your Tally fast





PLUG



AND

PLAY


Add or remove any extension at any given point of time without compromising data integrity and reliability



Ready to use Add-ons
Frontier Softech, having more than 20 years of experience, have dealt with thousands of companies across varied segments, understood their requirements & customized their Tally Software. Our experts have identified certain customization requirements out of these developments, which remained common among most organizations. Hence, our team has standardised it & converted into ready to use Tally add ons.
Choose from an entire range of add-ons across different categories such as Invoicing, Workflow Management, Business Verticals, Alerts & Controls, and many more.
Starting from as low as Rs.299, you can now easily buy these extensions by contacting us.
Common-to-use TDLS
Most demandable
Vertical Solutions
Enjoy our power packed
FREE

Tally Booster TDL for your Tally!

Click below to visit the YouTube link to the video for detailed feature explanation & download from the description box of YouTube.
Follow us, explore our playlists for more free TDLS, knowledge videos & productivity add-ons.

GET YOUR FREE TDL NOW!
Integrations
TallyPrime has been designed to provide integration capabilities that enable businesses to build cross-platform solutions without compromising data integrity and reliability. Thus, empowering business to seamlessly interact with multiple applications or software systems.
Integration capabilities in Tally allow two-way data transfer, which means pulling data out from Tally database or pushing data to Tally is as easy as it could ever get.
Excel to Tally
Import Masters, all types of Vouchers, Price list from Excel to Tally
eCommerce Integration
Simply import your ecommerce (Amazon, Flipkart, Snapdeal, etc) website data into Tally by a click of a button.
Website Integration
Exchange realtime with your website & Tally through API integration which allows exchange of Masters, Transactions, Stock balance & enjoy hasslefree workflow between both systems.
Readymade projects
Industry Specific Vertical Solutions
Choose from the list of ready to implement modules built in Tally by our developers. These modules are thoroughly studied by our experts and serves the right fit for each industry type according to the module.
SEE ALL MODULES